Cosmetic Dentistry in Coburg – Teeth Whitening & Cosmetic Dentures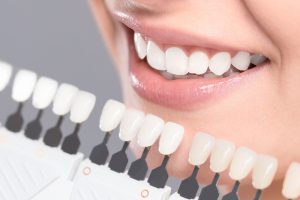 Everyone wants to have wonderful teeth and a beautiful smile that they aren't afraid to show off. Unfortunately, teeth can become stained or damaged as a result of various factors. For example, excessive sugar consumption can cause decay, smoking cigarettes can cause discoloration, and physical trauma can cause chipped teeth.
At Apollo Family Dental, we're proud to offer cosmetic dentistry in Coburg for patients who want to restore the appearance of their teeth and smile. Our procedures can also prevent more serious issues from developing, including various infections and diseases. Using the latest equipment and the most effective techniques, our Coburg cosmetic dentist can help you restore your self-confidence with cosmetic dentistry teeth whitening, veneers for teeth, crown dental procedures, cosmetic dentures and more.
Our Procedures & Treatments
When it comes to cosmetic dentistry in Coburg, there's nothing we can't help you with. Our procedures and treatments include:
Tooth Whitening
Are you dreaming of a smile you can be proud to show off? If your teeth have become discoloured or stained over time, Apollo Family Dental can provide assistance with professional teeth whitening in Coburg. Darker or stained teeth can be lightened (whitened) with cosmetic dentistry whitening, using special bleach products that can be applied at our dental clinic or at home. Our affordable teeth whitening treatment can effectively remove stains from enamel and is a safe and non-invasive method of achieving a whiter, brighter smile. Learn more about our tooth whitening treatments.
Cosmetic Dentures
Commonly known as false teeth, cosmetic dentures are ideal for people who have had multiple teeth removed. Whether teeth have been removed due to physical trauma, decay, dental disease or old age, implants and surrounding tooth structures can support natural looking dentures. Made from acrylic materials, dentures are specially made to the contours of your mouth and can assist with performing everyday tasks such as speaking and chewing foods. Learn more about cosmetic dentures in Coburg with Apollo Family Dental.
Veneers for Teeth
What are veneers? Veneers for teeth are used to mask discoloration and are bonded to the front of the teeth. They can also be used to repair teeth that have become chipped or worn, helping patients to achieve a perfect smile. At Apollo Family Dental, you can choose from resin or porcelain veneers in Coburg. Application of cosmetic veneers is often quick and easy, with resin veneers able to be applied in just one appointment. Porcelain veneers require a minimum of two appointments, as each veneer is specially made in a laboratory to match the shape of your tooth. If you're wondering whether veneers could improve your smile, looking at veneers before and after photos can help you discover what's possible.
How much do veneers cost? The cost of veneers can range due to a number of factors, including how many veneers are needed and whether resin or porcelain veneers are chosen. Typically, resin veneers are a more affordable option, but they're not as long-lasting as porcelain cosmetic veneers.
Dental Crowns
What is a crown? Dental crowns in Coburg are caps that are permanently bonded over damaged teeth to cover damage and prevent deterioration. In addition to protecting the tooth from further damage, a dental crown can also improve the appearance of a tooth, helping to give it a more natural appearance and shape. Crowns are typically used to replace large fillings, protect weakened teeth, restore fractured teeth, cover poorly shaped teeth, and cover teeth that have underdone root canal treatment.
What is the dental crown cost? The crown dental procedure cost will depend on the type of material used to make the crown. Available materials include porcelain, ceramic, gold, and metal alloys. Make an appointment with our Coburg cosmetic dentist to discuss your needs and receive an estimate of the dental crown cost.
Orthodontic Treatment
More commonly referred to as braces and plates, orthodontic treatment can straighten crooked teeth and correct jaw problems. While orthodontic treatment is commonly used for children and teenagers, adults can also benefit from braces to straighten crooked teeth. At Apollo Family Dental, we offer various types of braces, including conventional braces that are fixed to the front of the teeth, internal lingual braces that are fitted to the back of the teeth, and clear braces that are attached to the front of the teeth but have an invisible appearance. Learn more about our orthodontic treatments.
Improve Your Smile Today
At Apollo Family Dental, our Coburg cosmetic dentist can provide affordable assistance that's second to none. Whether you want to ask 'what are veneers?', you need cosmetic teeth whitening, or you wish to find out the dental crown cost, get in touch with our friendly staff today to learn more or make a booking.