Dental Checkup, Tooth fillings & Teeth Cleaning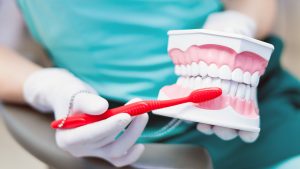 You only have one set of adult teeth to last a lifetime, so it's important to do everything possible to protect and preserve them, including visiting the dentist regularly for checkups. At Apollo Family Dental, we're fully capable of providing dental check-up and cleaning for patients as well as fillings and other general dental services. Whether you need a basic dental check-up or thorough teeth cleaning in Melbourne, we have you covered.
Common Questions
How Often Should I Have a Check Up?
It's recommended that you have a check up with your dentist every 6 months in order to maintain clean and healthy teeth. A check up should be booked sooner if you're experiencing a problem with your teeth, such as toothache.
What Will Happen During a Check Up?
During a check up, the dentist will examine your teeth, gums and mouth and also speak to you to determine if you've had any problems since your last check up. When examining your mouth, they'll look for signs of cavities and plaque as well as checking that the gums are healthy. A check up can also include a scale and polish to remove built up plaque.
What Will Happen After a Check Up?
After your check up, your dentist will speak to you about the health and condition of your teeth and inform you of any treatments that may be required, such as fillings or deep teeth cleaning. They may also discuss oral hygiene with you, such as the importance of brushing your teeth twice a day and flossing regularly.
What Do I Need to Tell the Dentist?
You should inform your dentist during your check up if you've experienced any problems with your teeth since your last check up, such as tooth sensitivity, toothache, or bleeding gums. You should also inform your dentist if you have a dental phobia, as this will allow the dentist to help you feel at ease.
Reasons to Choose Us
H2: Reasons to Choose Us
There are several reasons why you should choose us for checkups, dental scale and cleaning and tooth fillings in Melbourne. These reasons include:
We possess extensive expertise and experience
We accept walk-in appointments at any time
We offer bulk-billing for patients under the age of 18
We offer a safe and comfortable environment
We use the latest equipment and techniques
In addition, we can provide education to help people understand the importance of dental hygiene and oral health. Our dentists can educate patients of any age who need to develop good teeth cleaning habits. By teaching people to brush and floss regularly as well as eat healthily and visit their dentist on a regular basis for a dental checkup and cleaning, we can help them maintain their adult teeth and avoid serious dental problems later in their lives.
Discuss Your Requirements Today
When it comes to general dental services, including teeth cleaning and tooth fillings in Melbourne, Apollo Family Dental is a leading choice. Get in touch with our friendly staff today to learn more about services and discuss your requirements. You can also request a free quote and book an appointment.