Affordable Dentures Coburg
People often forget that their teeth are susceptible to damage and decay. Over time, your natural teeth may need to be removed due to old age, physical trauma or dental diseases. Fortunately, Apollo Family Dental offers affordable dentures in Melbourne for people who want to replace their missing teeth with natural looking alternatives.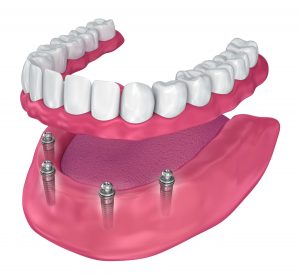 The highly trained denture specialist at our denture clinic can provide solutions that ensure you can continue performing basic everyday tasks, such as chewing foods and speaking comfortably. Our dentures can also support your facial muscles, preventing the drooping that occurs when you have missing teeth. This helps to maintain and preserve the youthfulness associated with having natural teeth.
What are Dentures?
Dentures are removable artificial teeth that replace missing teeth. Generally made from acrylic materials, dentures are designed to match the unique contours of your mouth. With proper care and cleaning, they can last for a significant amount of years.
Depending on the number of missing teeth that need restoring, our dentures in Melbourne are available in full or partial configurations:
Complete – These are suitable for people who have lost most or all of their natural teeth. They can replace every tooth in the upper and/or lower jaws.
Partial – These are suitable for people who have lost one or several of their natural teeth. They are attached to your remaining natural teeth using special clasps.
Enquire About Dentures Today
Apollo Family Dental is a leading choice for affordable dentures in Melbourne. Get in touch with our Coburg denture clinic today to learn more about how we can help you. Call us on (03) 9386 5225 or send us a message online.